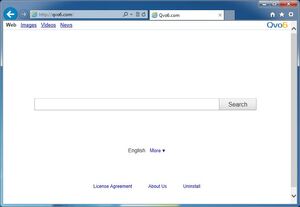 Qvo6.com (referred to as qvo6.com) is a search engine hijacker that redirects the user's default search engine to Qvo6.com.
About Qvo6.com
Qvo6 is one of the most difficult browser hijackers to remove in existence, along with Nationzoom.com. This pest strings itself to your browser and add-ons, so it can re-boot itself.
Steps to Remove Qvo6.com
For Windows XP/Vista/7/8:
Download RKill (it will stop any active malware infections, and protect the process from interference.)
Double click iExplore.exe to stop Qvo6.com and other malwares.
After the scan is done, and the items are found, download Adwcleaner.
Scan, then remove the threats.
Download Shortcut Cleaner to fix any infected shortcuts.
Facts about Qvo6.com
Qvo6 is one of the few browser hijacker that does not have a "search" at the engine's beginning. (i.e: It is Qvo6.com, not search.qvo6.com.)
Qvo6.com Gallery